By John Gillanders
Founded in 1988 and based in Toronto, Sweeny&Co. is a design firm with a strong foundation in Architecture, Interior Design and Planning.
We first ran into the Wolfes in the neighbourhood we both know and love – King West was home to our architectural practice for many years and Jeff and Rick Wolfe are fixtures of the neighbourhood. We have a lot of architectural philosophy in common; foremost is our mutual respect for the historical foundation of the King West neighbourhood. We are both strong believers in craftsmanship and integrity in our work as well as respecting the value of design to elevate people in their daily lives. We both embrace practical innovation to make things better and it goes without saying that we love what we do and have a lot of fun doing it!
Rick and Jeff are extremely decent people. It is obvious from the moment you meet them that they are in it for the long game – creating commercial properties that are innovative yet preserve and enhance their historical context. Another core objective that we share with the Wolfes is the commitment to extract value from the land in order to finance historical preservation.
We first began working with WolfeCorp in early 2016 when our office was asked to study their property at 49 Spadina and to imagine redevelopment of that site while retaining the heritage building on the property. Ultimately, this has led to the development of 2 Clarence Square and the creation of a scheme for a larger and more complex project at WolfeCorp's other King West property now known as Portland Commons.
The Wolfe team is great to work with. Rick, Jeff and now Matt are people with positive personalities which makes collaboration truly enjoyable. They have diverse perspectives on their projects that span from grand conceptual thinking, to extremely practical details.
We asked the WolfeCorp team what they thought about working with us.
"We have always admired Sweeny&Co designed buildings," said Matt Wolfe. "They are thoughtful in the ways they look to improve densification and take an artful approach towards integrating their design within the context of the neighbourhood They have extensive experience working with heritage assets, which was important to us, and understood the legacy of our buildings and their value and importance to our family.
We share a desire to create space that works for the future workforce and we support their mission to promote sustainability and green building while working to develop better planned communities.
Sweeny&Co. understands us and are perfectly aligned with our vision to create collaborative, wellness-based state-of-the-art office buildings that leverage the many great amenities and qualities that King-Spadina has to offer."
Clearly, the Wolfe family are respectful of our work and our people, but they are not afraid to push back when they feel that the design could be improved. At Portland Commons, when we were asked to take a step back and reassess the project from one point of view or another, we often responded with better, simpler ideas and the project has been improved. And when we have returned with reasoned arguments for why the design should not change, they have accepted this too with the confidence that comes from knowing we have tested alternatives, building reassurance in the original solution.
The two projects we are currently working on with WolfeCorp are both going to have tremendous impact on the neighbourhood at two different scales. 2 Clarence Square is a tiny site, while Portland Commons is so much larger. We are happy to share some of our experiences with these two sites.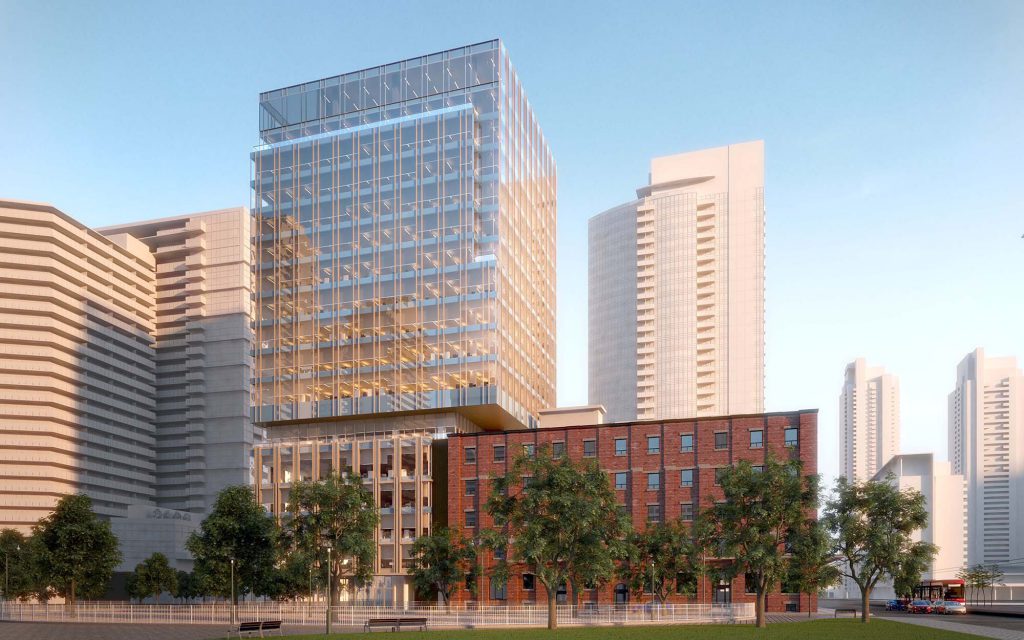 2 Clarence Square
This is a small site with numerous and complex constraints. To achieve a practical new development, we wanted to cantilever the new building over the existing heritage building's roof – but without bringing any structure through the existing building or disturbing the tenants of the existing heritage building in any way. The trick is to find a graceful way to achieve this. Brainstorming to solve these sorts of problems is fun and the Wolfe's have been great collaborators. Rick was eager to test every possibility with an open mind without preconceptions of cost or construction practicality – including a suggestion for hanging the whole building on cables from roof trusses supported on the elevator core. This freed us all to think creatively. Ultimately, we came up with a solution that involves slanted columns – not commonplace, but practical and elegant.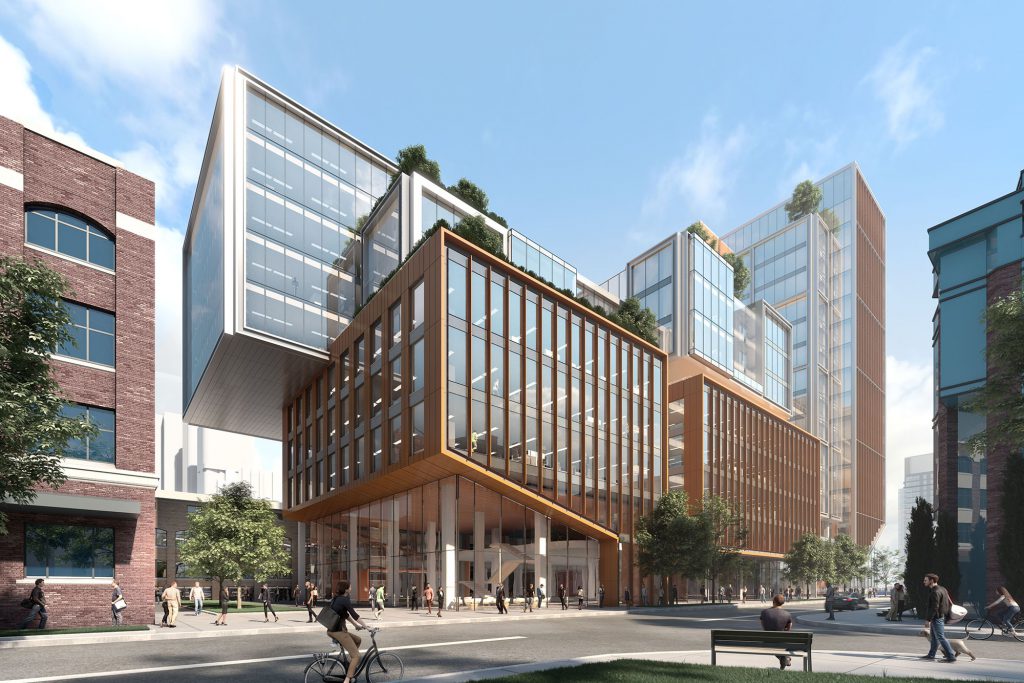 Portland Commons
The site of Portland Commons is sensitive to City planning policies and regulations: it is in a new Heritage Conservation District, abuts Draper Street, a heritage street with engaged residents, contains several heritage buildings that must be preserved and is adjacent to a significant heritage park, Victoria Memorial Square. We made a collective decision early in the design process to create a project that would be compatible with Municipal Planning Policies to support the neighbourhood. Like 2 Clarence Square, the height and massing of Portland Commons is governed by the requirement to avoid shadow on a park. In this case, Victoria Memorial Square. We designed the massing of the building to avoid shadowing the park, we included positive features like pedestrian walkways and outdoor landscaped amenities that add value to the building and are seen in a positive light by the City. We have also preserved the heritage buildings, truly untouched, which is essential to maintaining the integrity of the community. These positive attributes of the project were embraced by the City and our rezoning approval was completed efficiently within 9 months.
From the start, Rick had a vision of this building as a "workplace", not an "office". The ideas of embracing and supporting a new world of working has permeated this project and elevates it beyond a typical office building. He saw a relationship between the qualities of his existing heritage buildings, which are so attractive to office tenants in the King West neighbourhood and the office space we have created for ourselves at the Queen-Richmond Centre West. He has also been committed to the value of designing a building to attract a new demographic, the tech/creative worker. Terraces, great outdoor pedestrian spaces, flexibility from multiple elevator cores and multiple entrances, tall ceilings and tall windows, exposed "muscular" structure, a ground floor that is flexible for retail, restaurants, markets, event space and lots of activity in general, are some of the features that make this building special.
WolfeCorp is a valued client who is deeply engaged with their projects to not only create successful real estate developments but also great buildings that they, and the community, can be proud of.